Current Projects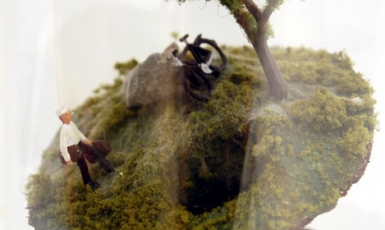 Lost Luggage
After moving to Antwerp Belgium I am embarking on a series of dioramas and photographs using the medium to tell stories.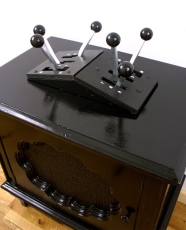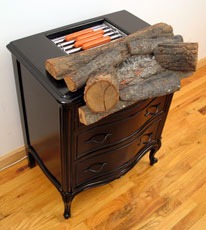 AC/DC Shifter - Ned Troide - Weiner Roller
Ned Troide was singularly famous for scoring 72,999,975 points on the video game Defender, the highest score ever recorded. What is less known is that he also created a curious set of Heavy Metal end tables.
A new Religious Artifact for the Transmission II: Airborne show at the New Museum of Contemporary Art presented by free103point9. The Airborne site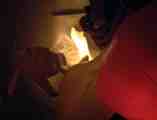 An interactive environment that explores issues surrounding genetic research and its potentially disastrous outcomes by Paul Davies, Leslie Clague, Jake Woland and Nick Chapman. Constructed at the Tank NYC / Spaceworks and open until Dec 20, 2004 (open almost all the time 7 days week).
I am currently working on a series of interactive video sculptures titled Small Humans. The sculptures are about technological folly and feature small pluggable LCD video screens. I am also working on a series of digital C prints based on video stills. I have written a more detailed thematic description and scanned a set of slides.
NEW! Some of this work was shown in my first NYC solo show at the free103point9 gallery. Pics of the night are here.
Small Humans is generously supported by grants from the City of Chicago and the Canada Council for the Arts.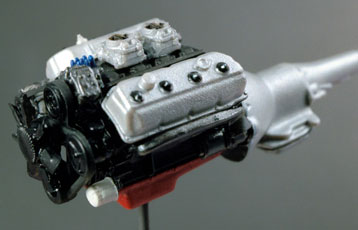 I am about half way through a new series called American Iron. It's a series of engines from American muscle cars of the 60s and 70s. The picture above is a 1971 Dodge Charger 426 cid 'Street Hemi' - one of the great monsters that predated the gas crisis. The engines are modeled in 1/25 scale plastic resin and displayed in plexiglass cases with wood bases and brass name plates. I am also photographing the engines with a medium format camera and printing these very large - as close to 1-1 scale for the real engines as I can.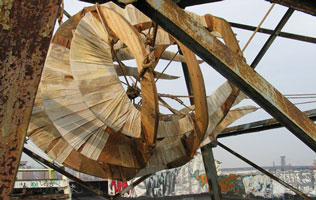 A rooftop sculpture created with Jake Woland and Rob Roy Chalmers.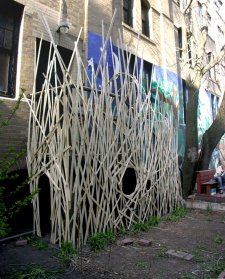 An outdoor urban sculpture created by myself, Morrison Lyman, and Rob Ray. This was created on the side of a community center that is scheduled for demolition.
NEW! Some new high quality photos shot by pro photo-journalist Stephanie Sinclair.
tornado is a dynamic, interactive environment that mixes architectural sculpture, found objects, sound, video and light. tornado evokes the idea, energy and volume of the tornado storm in it's physical definition of space and form. This literal evocation is layered on top of a cultural tornado of mix and mixing interactive sound, music, video, and cultural artifact.
Very similar in spirit and practice to the 6 really great round beakers show - this environment was built in the deadtech gallery in Chicago in Feb of 2002 by Paul Davies, Craig Miller, Tyler Cufley, Tina Burton, Jesse Paul Miller, Leslie Clague and Rob Ray.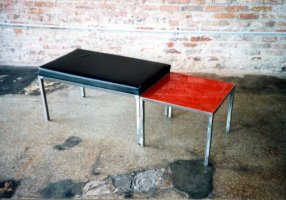 I have made some furniture from time to time - I use steel and epoxy resin. These photos are from the Artcore Studios tattoo shop in Seattle. The steel is gas welded and finished with an angle grinder and the top is epoxy resin poured over plywood. The epoxy is very shiny and retains a liquid appearance when hard.
Three anti-war pieces I created out of feelings of anger, fear and disbelief with the current social and political climate in the United States. These pieces where shown at the October edition of Randy Wood's One Night Only, 11 Shows in 11 Months.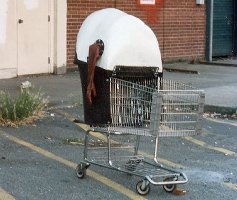 An armored shopping cart designed to protect americans from americans. Inspired by the fantastic sculpures of Kenji Yanobe. Recently released to freedom in the parking lot of an abandoned Red Apple grocery. My friend Sarah Lippek took a few snaps before the shopping cart was captured and taken away by children.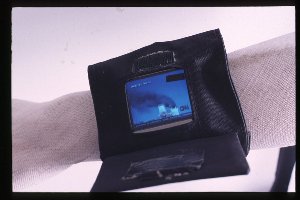 A handy miniature video player worn in a wrist strap. A looping video keeps you reminded what it's all about. Created for the 'first war of the new millennium' show at SOIL gallery (May, 2002). Many thanks to my sister Pam Davies for her help on this project.
A simple pill dispenser - put a quarter in and a pill comes out. This piece continues with my use of surplus plywood toolboxes from Boeing Surplus and white epoxy resin. Created for the Noodle Works Invitational.
Matt from Houston gallery was generous enough to ask the SOIL crew to have a show at Houston while we were between spaces. After some debate the SOIL membership agreed to create work that reflected the sensibilities of the Houston gallery. The working title was 'ultra-flat, super-bad'. I created something that was ultra-flat and super-bad.
A sculpture created for the 2002 Artist Trust charity auction. Consists of a white epoxy covered plywood toolbox from Boeing Surplus. A one inch round hole in the surface permits visitors to insert their finger and have it stamped with a unique serial number. Get your number.
I recently finished inflate, an interactive inflated environment. Created with Leslie Clague, Rachel Johnston, Sarah Morris, Sean Vale, Brent Watanabe, and Mark Johnson. Shown at SOIL for November 2001; we are thinking about taking it on the road.
Past Projects