Quantification of Humans (qoh) is a measuring device. qoh measures the quantity of humans in a set area. Like all digital devices, qoh loses fidelity as it converts an analog signal to a digital one. The resolution of qoh is one bit: it converts a person into a single digital bit. All of an individual's aspects, all of their myriad characteristics are converted into a single change of state: high or low, zero volts or five volts.
qoh consist of two major components: a four-by-four grid of weight sensitive floor mats and a primitive terminal consisting of four-by-four dots. There is a one-to-one correspondence between a mat and a displayed pixel: a weight on a given mat causes the appropriate pixel to activate; without weight the pixel is black.
qoh was conceived and executed in the framework of the Art and Robotics Group's, SpaceProbe project. As such it was designed to eventually interact with other installations, sharing information over a network such as the SenseBus.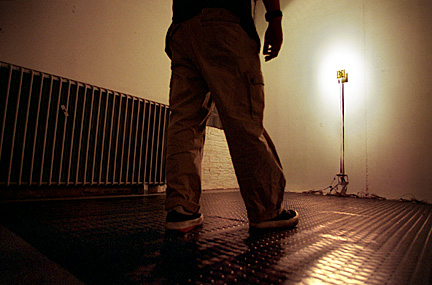 photo: S. Sinclair